Soffit & Fascia Services
Soffit & Fascia
Installation, Repair & Replacement
New soffit installations also include vents to provide airflow preventing moisture buildup and prolonging your roof's lifespan. Our expert contractors guarantee customer satisfaction. Our high-quality aluminum soffit and fascia come in a variety of colors including:
White
Gray
Black
And many more
Soffit & Fascia Repair
Over time soffit and fascia can get damaged and may need repairs. Our expert contractors will be able to repair any damage in a timely manner.
How do I know if my soffit or fascia needs repair?
Holes
Gaps
Cracks
Any other visible damage where water or small animals could get into
If you notice any of the noted issues above, contact Schmidt Contracting today!
Soffit & Fascia Replacement
In cases of more extreme damage, your soffit or fascia may need to be replaced. Water in your walls or roof can quickly cause damage or mold to grow. This can be caused by problems with gutters which we are experts in repairing and replacing. Call Schmidt Contracting before this easy repair turns into a more serious issue.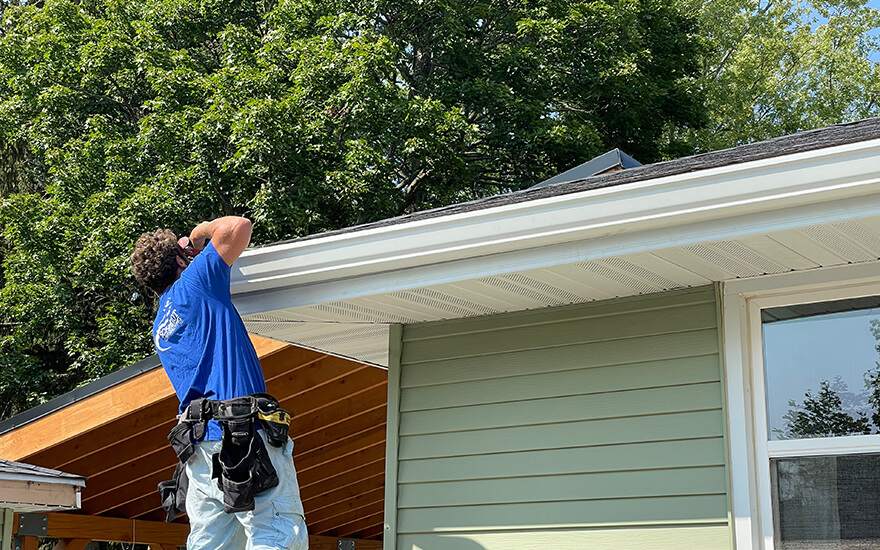 Soffit & Fascia Contractors
Installation, Repair & Replacement in Southeast Wisconsin
Soffit and Fascia are important elements when it comes to protecting your home. Damage to soffit and fascia can lead to water getting into your home damaging the walls and roof. Prevent animals from nesting in your attic and framing with our licensed and insured contractors who are experts on soffit and fascia installation, repair, and replacement. Schedule your free estimate with us today.
Keep Water Out, Seamlessly!
Don't wait until it's too late
We service in Southeast Wisconsin & Northeast Illinois including Milwaukee, Waukesha, Jefferson, Walworth, Racine, Kenosha, the Rock County Lake in Wisconsin and McHenry County in Illinois.
During a recent wind storm, our fascia was damaged and needed to be repaired. They were prompt with an inspection and estimate. They also provided us with a temporary repair to minimize the damage to our home. They carefully matched the color of our existing fascia to the repaired fascia. Everything was completed in less than a week! Highly recommend Schmidt Contracting! They rock!
Mary P
Jerry helped us to get our ice damming permanently fixed, as well as install new gutters at the same time. They delivered what they promised without any hassle for me or my husband. Highly recommend them!
Holly M
Schmidt Contracting installed new seamless gutters for me. The gutters look great. Their team was professional, courteous, on time, and very responsive to my questions and requests.
Tom R