Gutter Installation
Downspout included with every installation
It's on the house
Every job we do is slightly different. Schmidt Contracting's custom-built gutters are crafted on-site with our portable machinery and are ready for immediate installation. Our 5 or 6" gutters use a heavier aluminum gauge for greater durability so you don't have to worry about ice buildup. New downspouts are included with every new gutter installation. Pair your gutter installation with our stainless steel, aluminum or plastic leaf filters. All of our products are available in a variety of colors, including copper, white and more.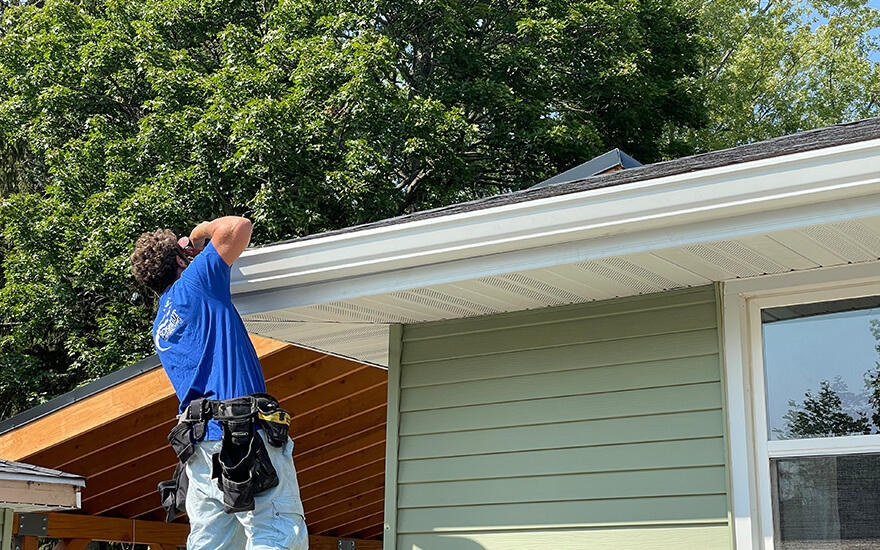 Benefits of replacing a faulty Gutter
Installing a new gutter is a simple fix to your home that comes with many benefits:
Aesthetic appeal: The improvement a gutter adds to your home's appearance isn't just cosmetic. Overflow from clogged gutters can severely damage your home's roof or stain siding, driving down value.
Erosion Prevention: Keep your lawn looking good with gutters that keep water away from your home and yard so you don't have an eroded mess instead of perfect landscaping after a storm.
Protection for your basement: Cracks, pinholes or other faults in your gutter mean rainfall won't be diverted away from your home. Water will collect around your foundation, spelling disaster for your basement.
Roof longevity: Gutters weighed down by debris wreak havoc on your roof, not to mention the strain pooling rainwater creates. A branch falling on your gutter may not seem like a big problem, but when junk starts to pile up and degrade the quality of your roof, problems quickly compound.
What is the average cost to install a new gutter?
Clogged and damaged gutters are a nightmare for homeowners, but ignoring a leaking or damaged gutter can cost you your roof. Gutter installation can cost between $2500 to $4,500 for a typical 200-300 foot installation. A roof replacement costs $5,000-$25,000, making a new gutter a much cheaper option.
Don't wait until it's too late
We service in Southeast Wisconsin & Northeast Illinois including Milwaukee, Waukesha, Jefferson, Walworth, Racine, Kenosha, the Rock County Lake in Wisconsin and McHenry County in Illinois.