Gutter Installation
Downspout included with every installation
Custom Gutters - treat your home right!
Every job we do is slightly different. Schmidt Contracting's custom-built gutters are crafted on-site with our portable machinery and are ready for immediate installation. Our 5-6" gutters use a heavier aluminum gauge for greater durability so you don't have to worry about ice buildup. New downspouts are included with every new gutter installation. For added value, pair your gutter installation with our stainless steel, aluminum, or plastic leaf filters. All of our products are available in a variety of colors, including copper, white and more.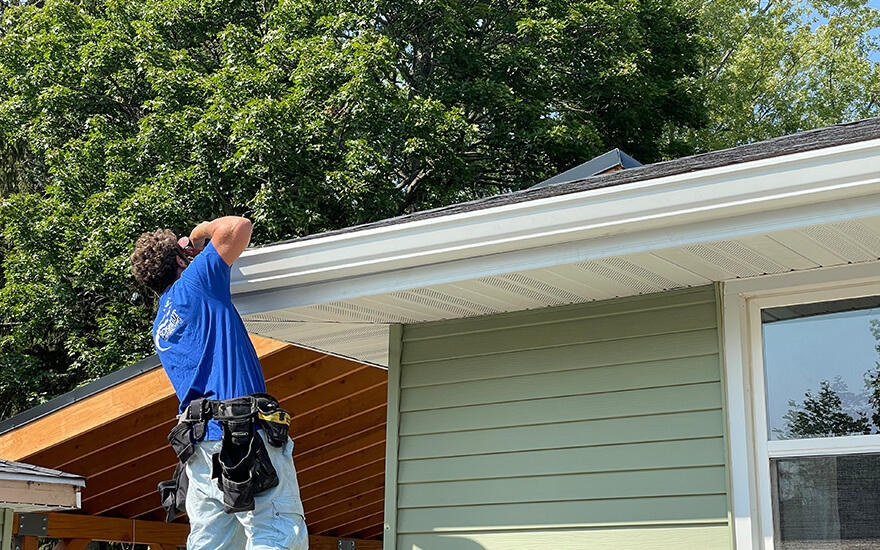 Benefits of replacing a faulty Gutter
Installing a new gutter is a simple fix to your home that comes with many benefits:
Aesthetic appeal: The improvement a gutter adds to your home's appearance isn't just cosmetic. Overflow from clogged gutters can severely damage your home's roof or stain siding, driving down value.
Erosion Prevention: Keep your lawn looking good with gutters that keep water away from your home and yard so you don't have an eroded mess instead of perfect landscaping after a storm.
Protection for your basement: Cracks, pinholes, or other faults in your gutter mean rainfall won't be diverted away from your home. Water will collect around your foundation, spelling disaster for your basement.
Roof longevity: Gutters weighed down by debris wreak havoc on your roof, not to mention the strain pooling rainwater creates. A branch falling on your gutter may not seem like a big problem, but when junk starts to pile up and degrade the quality of your roof, problems quickly compound.
Pair Your newly installed gutter with raindrop gutter guards

A gutter system is not complete without a gutter guard. A gutter's primary purpose is to take water away from your home; if they're clogged, the water will end up overflowing and possibly ruining your home's foundation. The best part of our gutter guards is that they fit on every roof style. During the winter, RainDrop Gutter Guards heat up from the sun, naturally melting snow and ice to keep water flowing into your new gutters.
What is the average cost to install a new gutter?
Clogged and damaged gutters are a nightmare for homeowners, but ignoring a leaking or damaged gutter can cost you your roof. Gutter installation can cost between $2500 to $4,500 for a typical 200-300 foot installation. A roof replacement costs $5,000-$25,000, making a new gutter a much cheaper option.
How long will a gutter installation take?
On average, a single-story gutter installation will take less than a day. Our portable gutter forming machine, allows us to install gutters on an average-sized home within 1 to 4 hours.
Why should I install new gutters?
Gutters clogged with everything from leaves to twigs can cause expensive and dangerous home repair nightmares. Rainwater washing over your gutters can accumulate in pools around walls and foundations. This can result in leaky and cracked foundations or flooded basements. Raindrop Gutter Guards prevent leaves, twigs, acorns, or other debris from collecting in your gutters allowing the water to run smoothly through the gutter and away from your home. Raindrop Gutter Guards also keep water from seeping down your home's exterior and in winter they help prevent ice buildups on roofs.
Why are Schmidt Contracting's seamless gutters the best choice?
Schmidt Contracting's seamless gutters are made with corrosion-resistant parts, materials, and finishes so your gutters will be virtually maintenance-free! A professional installer measures and cuts your gutters on-site. This means you will have an ultra-strong, continuous system. In addition, the installers will cut them precisely to your home, with far fewer joints. Traditional gutters come in pre-cut segments. Installers have to piece these together across the length of your home. While this type of gutter may be cost-efficient at first, the patchwork installation often results in multiple weak points and leaks. Unfortunately, this can lead to expensive repairs. This is due to the deterioration of landscaping, foundation walls, and rotting wood.
Keep Water Out, Seamlessly!
Don't wait until it's too late
We service in Southeast Wisconsin & Northeast Illinois including Milwaukee, Waukesha, Jefferson, Walworth, Racine, Kenosha, the Rock County Lake in Wisconsin and McHenry County in Illinois.
An absolute pleasure to work with. Jerry and Caleb had great communication and were always on time. Work quality was excellent. They went above and beyond to make sure we were happy. We would definitely recommend them to anyone needing roof, siding or gutter repairs or installation. Thank you Schmidt Contracting LLC.
Tommie T
Jerry helped us to get our ice damming permanently fixed, as well as install new gutters at the same time. They delivered what they promised without any hassle for me or my husband. Highly recommend them!
Holly M
Schmidt Contracting installed new seamless gutters for me. The gutters look great. Their team was professional, courteous, on time, and very responsive to my questions and requests.
Tom R