Gutter Replacement
Licensed & Fully Insured
Replace Old Gutters with Premium Material
Schmidt Contracting serves customers in a 60-mile radius of Elkhorn WI. If you need your gutters replaced, we're here to help. Don't risk running into problems by trying to DIY when you have trustworthy professionals who will provide quality service at the best value. We also provide low-cost leaf filters to keep outdoor debris and pests from settling in your gutter system. With a new gutter system, your home will stay warm and dry, and you won't have to deal with the yearly bother of cleaning clogged gutters.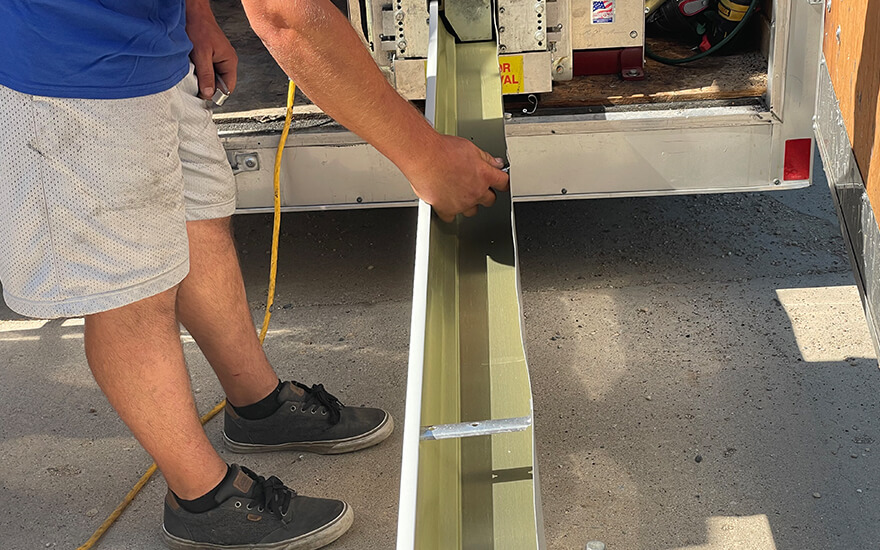 Benefits of replacing your gutter by a Professional
Finding the right gutter services expert to replace leaking or clogged gutters can be daunting. However, a professional service like Schmidt Contracting can provide:
Increased home value
An up-to-date system with gutter guards that will prevent future clogging
Saved time and money since you don't have to deal with future damage
A safer, more efficient process that avoids costly mistakes
How do I know if I need my gutters replaced?
There are a number of ways to tell if you need a new gutter. Some of the most common are visible cracks, peeling paint, mildew or staining on or near your house, obvious detachment from your home or other parts of the gutter system, rust or orange areas or overflowing rainwater. If you notice anything that indicates your gutters aren't diverting rainwater as they should be, it's time to consider getting them replaced. If you need a new gutter system, our installation professionals are happy to come out and create new gutters on-site to replace your old ones.
What happens with the removed gutter system?
After our contractors install new gutters to your home, we remove and dispose of your old gutter system on the same day of completion.
Don't wait until it's too late
We service in Southeast Wisconsin & Northeast Illinois including Milwaukee, Waukesha, Jefferson, Walworth, Racine, Kenosha, the Rock County Lake in Wisconsin and McHenry County in Illinois.