Northern Illinois
Northern Illinois Gutter Installation Service
Budget-Friendly Gutter Services
Schmidt Contracting is located in Elkhorn, Wisconsin, and travels to service areas all over Northern Illinois. Gutters can be a hassle when it comes to repairing or installing a new system. Upgrade your home's gutters with new installations and repairs with us and receive free downspout installation with every new system. Keep your gutters running smoothly with Schmidt Contracting, now serving northern Illinois cities.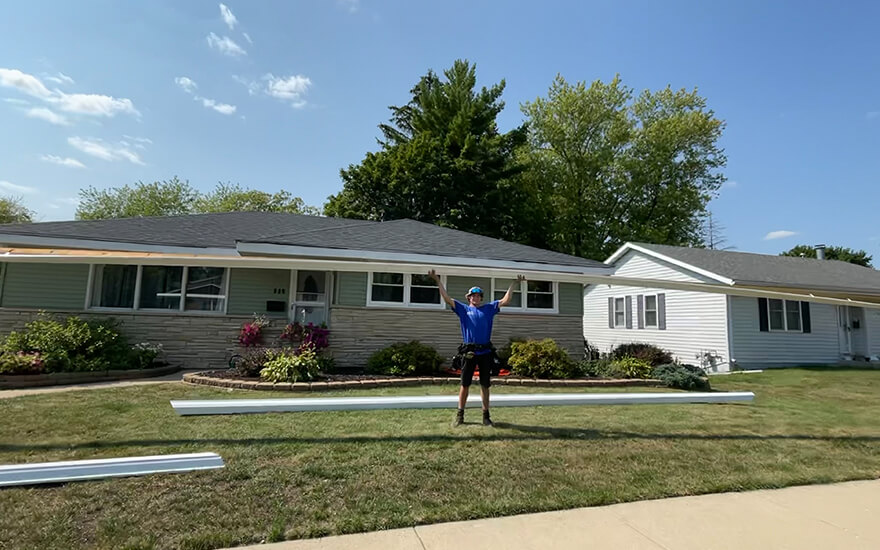 Illinois Gutter Guard Installation
Gutter Guards are installed to reduce debris and regular cleaning. At Schmidt Contracting, we offer gutter guard installation, repair, and replacement with every new gutter system installed. Our licensed professionals will remove, install, repair, or clean your gutters, benefiting your home and keeping it nice throughout the years. We'll also help prevent clogs and overflows to keep your house dry with new leaf filters!
Gutter Guard & Gutter Installation Services in Northern IL
We provide gutter & gutter guard installations to the following cities and towns in Northern IL:
Harvard
Richmond
Hebron
Spring Grove
Ringwood
Wonder Lake
McHenry
Roscoe
Lake Villa
Fox Lake
McHenry
Rockton
Antioch
Winthrop Harbor
Zion
Keep Water Out, Seamlessly!
Don't wait until it's too late
We service in Southeast Wisconsin & Northeast Illinois including Milwaukee, Waukesha, Jefferson, Walworth, Racine, Kenosha, the Rock County Lake in Wisconsin and McHenry County in Illinois.