Local Gutter Repair Experts
Residential & Commercial Gutter Repair
Gutter Services in Southeast WI & Northeast IL
Sometimes all a punctured or cracked gutter needs is some repair work, which can be as simple as patching a hole, fixing leaky joints, or even adding leaf filters. Leaf filters can prevent debris from building up in your gutters preventing further damage & saving money on future repairs while avoiding:
Water erosion from rainfall will damage your foundation and flood your basement
Debris material piling up and adding extra weight to your roof
Water pooling on your roof and degrading the quality of your roofing material
Outdoor pests being attracted to your home by nesting material in the gutters
Need a new downspout or elbow? We have an extensive inventory of many different types and colors. We also sell Raindrop Gutter Guards so you can have an effective gutter system without installing an entirely new system.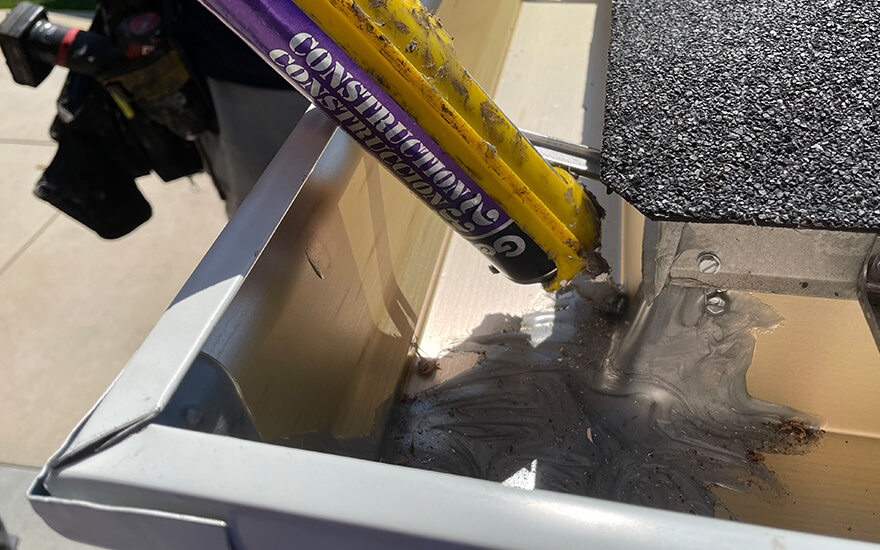 How do I know if I need my gutters repaired?
You may need your gutters repaired if you notice any of the following signs:
Any size cracks, holes, or splits
Broken fasteners
Rust spots
Sagging
Peeling paint on or around your gutters
Mildew and/or standing water near your home's foundation
Water damage and/or marks below gutters
Nails or screws on the ground
When to repair my gutters?
Knowing your gutters need to be repaired isn't the same as knowing how to do it. As a general rule of thumb, gutters should be repaired when they are leaking, cracked, clogged, holey, or damaged in any other way. In other words, if your gutters are showing signs they aren't serving their purpose of draining water away from your home, and the damage appears to be localized, you need repair work done. Contact Schmidt Contracting today for professional assessment and expert repair service at a great value.
How long does it take to repair or install new gutters?
A new gutter system can typically be repaired or installed in a single day. Any existing gutters and downspouts would be removed, the surface area inspected, exact measurements are taken and new gutters formed and cut onsite. These are then installed with new downspouts. We haul away all removed materials on the day of completion.
Keep Water Out, Seamlessly!
Don't wait until it's too late
We service in Southeast Wisconsin & Northeast Illinois including Milwaukee, Waukesha, Jefferson, Walworth, Racine, Kenosha, the Rock County Lake in Wisconsin and McHenry County in Illinois.
An absolute pleasure to work with. Jerry and Caleb had great communication and were always on time. Work quality was excellent. They went above and beyond to make sure we were happy. We would definitely recommend them to anyone needing roof, siding or gutter repairs or installation. Thank you Schmidt Contracting LLC.
Tommie T
Schmidt Contracting installed new seamless gutters for me. The gutters look great. Their team was professional, courteous, on time, and very responsive to my questions and requests.
Tom R