Gutter Guards & Leaf Filters
Keep Leaves and Debris Out!
The Best Gutter Guards Systems for Your Home
Gutter guards offer additional protection when they're paired with a new or existing gutter system. Prevent debris from building up and increase the longevity of your gutter system while decreasing maintenance with Raindrop Gutter Guards. Installing gutter guards helps prevent rust, pest infestations and prevent your gutters from freezing in the midwestern winter weather. Our gutter systems are customizable and are paired with Raindrop Gutter Guards to ensure maximum protection and comfort for your home.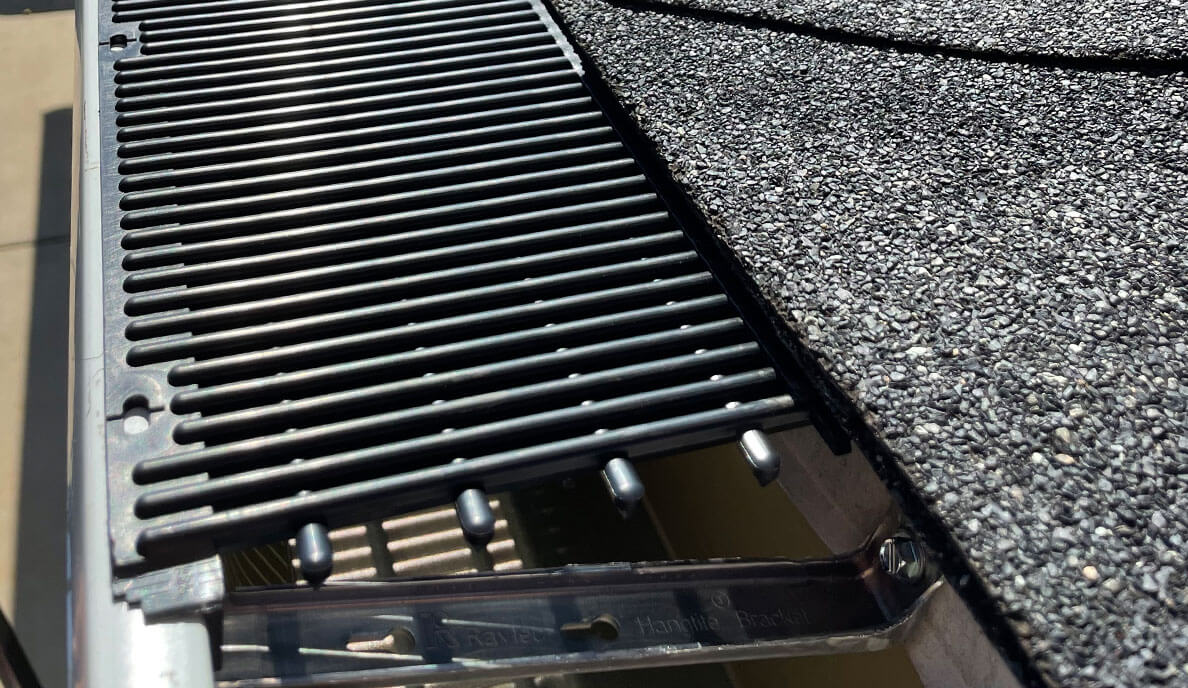 RAINDROP GUTTER GUARD INSTALLATION

We sell and install Raindrop Gutter Guards that are compatible with all our customized gutters. Raindrop Gutter Guards offer your home premium protection from any unwanted debris buildup. Our gutter guards work with every style of roof and can fit 5" or 6" gutter systems. Raindrop products are stronger than other gutter guards because they're made from polypropylene instead of vinyl.
Types of Gutter Guards
We offer 2 types of gutter guards: Mesh and screen. Mesh gutter guards prevent gutter system buildup with a layer of micro-mesh while screen guards use screens to keep out unwanted items. Our gutter screens include:
Aluminum: A long-lasting option that easily blocks large leaves and is cost-effective.
Plastic: Can stand extreme weather conditions if made from quality materials and won't suffer from water damage and corrosion like metal.
Stainless steel: A durable material that doesn't easily rust or succumb to extreme temperatures.
How often do you need to clean gutters?
Each house is different, and cleaning is based on the number of trees around your house. With typical coverage, most houses need gutters cleaned twice a year, once in the spring and once in the fall. If you only have trees on one side of the house, the side without tree coverage may only need to be cleaned once a year. Leaf covers will reduce the frequency of cleaning even further but again, each house is different.
Do Raindrop Gutter Guard leaf filters work?
Yes, leaf filter protection will help you save money and extend the life of your gutters. You will not have to risk your safety climbing a ladder to clean your gutters or have to find and pay for gutter maintenance twice a year.
Keep Water Out, Seamlessly!
Don't wait until it's too late
We service in Southeast Wisconsin & Northeast Illinois including Milwaukee, Waukesha, Jefferson, Walworth, Racine, Kenosha, the Rock County Lake in Wisconsin and McHenry County in Illinois.
Jerry helped us to get our ice damming permanently fixed, as well as install new gutters at the same time. They delivered what they promised without any hassle for me or my husband. Highly recommend them!
Holly M
Schmidt Contracting installed new seamless gutters for me. The gutters look great. Their team was professional, courteous, on time, and very responsive to my questions and requests.
Tom R